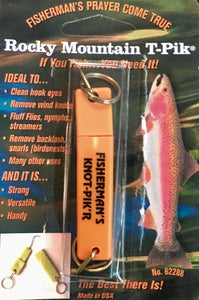 Rocky Mountain T-PIK
FISHERMEN LOVE IT! The Rocky Mountain T-PIK
™ is ideal for all fishermen,
whether you like to cast, fly, or deep sea fish you need to have one in your
tackle box or on your vest. The Rocky Mountain T-PIK
TM
 is great for the
removal of wind knots, back lashes, and tangles. It is great for assisting
in changing your lures and cleaning eyes of the hook. Many fishermen use
this handy tool for tying, and fluffing flies. It attaches easily to the loop
on your vest and you can attach a clipper to the other end. Order yours today! 
---
We Also Recommend