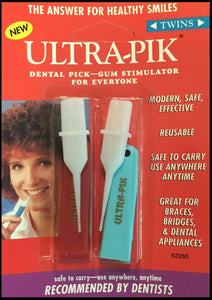 ULTRA-PIK Twins
Recommended by dentists, the Ultra-Pik™
 is a reusable,
plastic gum stimulator for people of all ages. It is made
of high quality, durable, FDA approved plastic. It is great
for all dental appliances: bridges, braces etc...It does not
get soggy or splinter like wood toothpicks, and will not
spread your teeth or scratch the enamel. 
---
We Also Recommend